Things to do in Ninh Binh
Things to do in Ninh Binh Vietnam detail
Ninh Binh is one of the most attractive places that is worth to visit in Vietnam, things to do in Ninh binh and what to do in Tam coc Ninh binh ?
There are many beautiful natural landscapes that are classified as world natural heritage recognized by UNESCO. Spending days traveling in Ninh Binh visitors have the opportunity to experience many interesting things about people and landscapes here.
About Ninh Binh
Ninh Binh is a northern province of Vietnam. This prefecture was once the capital of Vietnam in the period from 968 – 1010. That is why there are many ancient works of the old dynasty.
Currently Ninh binh is the most potential tourism center in Vietnam with many beautiful landscapes. Ninh binh has a mixture of different cultures, creating cultural diversity that attracts many visitors to this place.
How to travel to Ninh binh?
Visitors can choose a variety of vehicles to travel to Ninh Binh. Ninh Binh is about 100 kilometers south of Hanoi, you can rent a motorbike or take a bus Cat ba to Ninh binh. or you can also choose to move to Ninh Binh by train depending on where you started.
Arriving in Tam Coc Ninh Binh, you should rent a motorbike to travel conveniently. Discovering all tourist destinations by yourself will be a memorable experience for visitors.
Ninh binh what to see & some of tourist attractions in Ninh binh
Visit Ninh Binh, you should not miss some interesting places to visit as.
Trang An Scenic Landscape Complex Scenic Landscape Complex is the most crowded tourist destination in Ninh Binh today. This site was once recognized as a World Cultural and Natural Heritage by UNESCO in 2014.
The landscape complex include ecotourism areas, water forest systems, pagodas, vegetation, rice fields and many other beautiful scenes. This place is about 8 kilometers from Ninh Binh city center. To visit this place you need to buy an entrance ticket.
Bai Dinh Pagoda
Bai Dinh Pagoda is famous for being a sacred place to pray for luck and peace. It is a destination that should not be overlooked when coming to Ninh Binh, especially in the beginning of the new year. This is a large temple complex known for many Asian and Vietnamese records established as:
– The pagoda has the largest Buddha statue in gold in Asia.
– The pagoda has the longest Arhat corridor in Asia.
– The pagoda has the largest bronze statue of Maitreya in Southeast Asia.
The pagoda is currently located in Gia Sinh commune, Gia Vien district, Ninh Binh province.
Mua Cave
Mua Cave is considered the Great Wall of Vietnam. Tourist attractions include 486 steps waiting for visitors to explore. Standing from the top of Mua Cave looking down you will admire the magic beauty of nature.
Hang Mua – Mua Cave is located in Ninh Xuan commune, Hoa Lu district, Ninh Binh province, to visit this place you need to buy an entrance ticket.
Where is Tam Coc – Bich Dong in Vietnam ?
Where is Tam Coc in Vietnam ?
Adding an attractive tourist destination for you to discover is Tam Coc – Bich Dong. The scenic area consists of 3 caves made up of the Ngo River that pierced the mountain. Inside the cave, there are many stalactites, creating beautiful eye-catching scenes.

Bich Dong is located 3km from Tam Coc wharf. It has a natural green landscape overlooking the golden rice fields. The scenic spot is located in Ninh Hai commune, Hoa Lu district, Ninh Binh province.
What is there to do in Tam Coc ?
There are still many other beautiful landscapes waiting for visitors to visit. If you have more time, you can visit Van Long Lagoon, Cuc Phuong National Park, Hoa Lu Ancient Capital.etc.
Specialties of Ninh Binh
Visiting Ninh Binh, you should not miss the opportunity to enjoy delicious specialties here. Some special delicacies in Ninh Binh: eel cellophane noodles, goat meat, fish salad, roasted copper crabs with leafy leaves, sour meatball, Kim Son wine.etc. Guests can choose to enjoy these delicacies directly or buy them as gifts after the trip.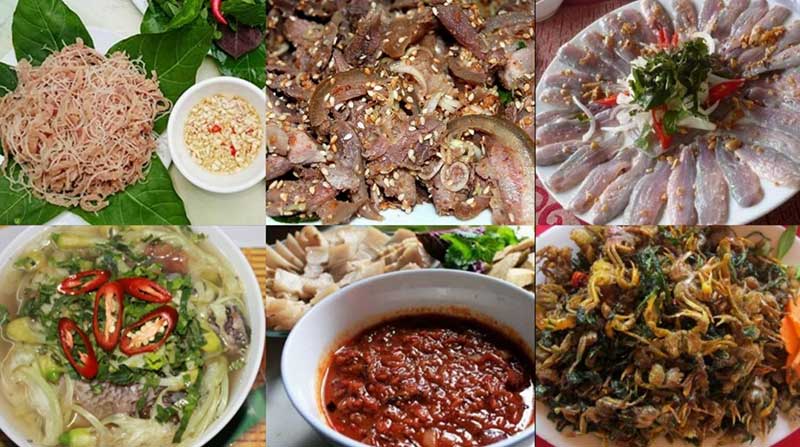 Ninh Binh is influenced by the monsoon tropical climate. The climate is relatively mild throughout the year, so you can travel here anytime. The best time for tourists to visit Ninh Binh is from January to March, this time the climate here is not too cold nor too hot, which is very suitable for sightseeing excursions.
If you want to admire the golden rice fields, then visit Ninh Binh between May and June. Choosing the right time before travelling will help you have a meaningful trip. So remember to refer to the above information before planning to have fun in Ninh Binh.